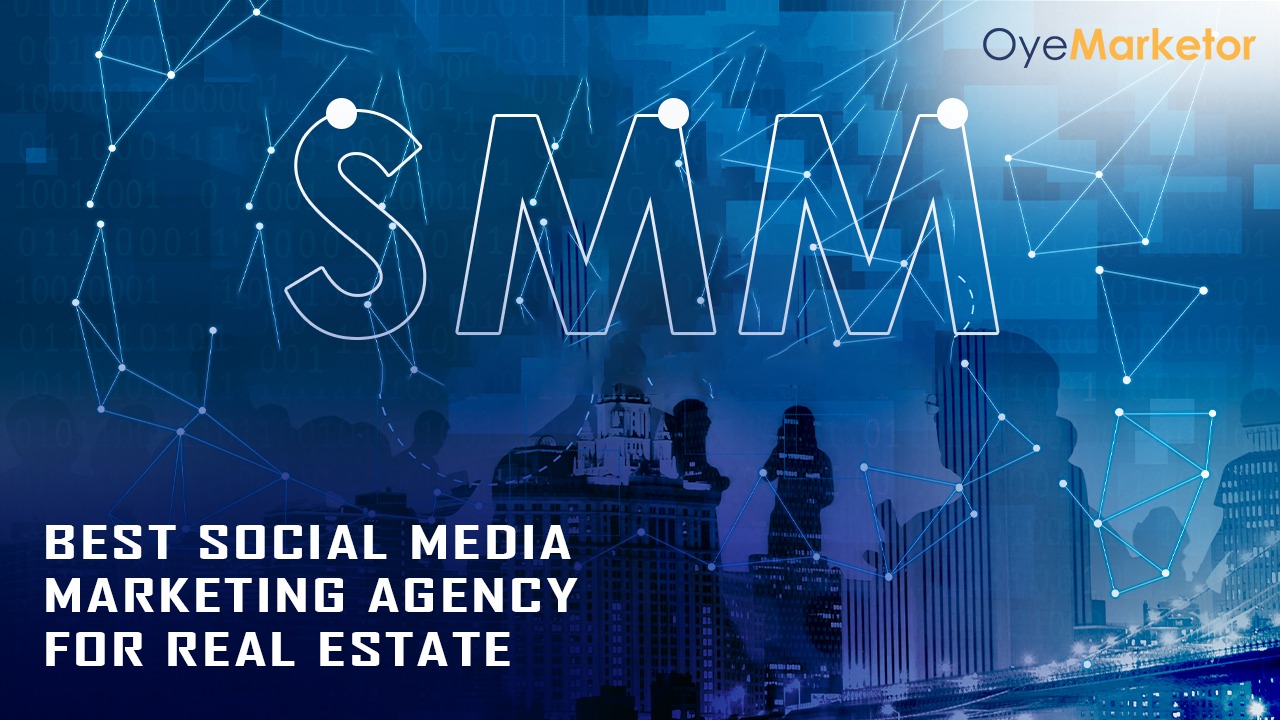 The concept of online social media marketing has been rapidly growing in the past few years. People (mainly business authorities) have taken this concept quite seriously and use it for the effective growth of their businesses. Online presence is a means to be active and attentive on various social platforms and sites. This concept does not only ensure more profit but also the growth of the business.
OyeMarketor brings you premium Social Media Marketing Services for the Real Estate business. You can attract traffic and increases your website visibility precisely for the real estate business. Social media presence and catchy outlooks of social media platforms give a great push to a website's growth. Almost all of us use social media platforms, a few of which are very famous; Instagram, Facebook, Youtube, Snapchat, WordPress, etc. These platforms have a very promising result for business progress. If you are looking for the best social media marketing agency then you are at the right spot. OyeMarketor is the final stop for you to buck up your real estate craft with our social media marketing services.
Facebook
Social media platforms are the major source to attract the audience. One such is Facebook. You get to reach out to people at a mass level and share updates, events, photos, videos, and many other activities. Every other person uses Facebook. Here, you can share your real estate pages and create your campaigns. OyeMarketor helps you in sustaining a direct connection with your viewers/customers which helps you to know better about your audience's opinions. We help you acknowledge all the opportunities, working, and protocols of advertising on Facebook so that you can set your choice of target demographically, choose the location and categorize the interests of people. The unavoidable validity is that there will always remain uncountable users on Facebook for you to reach out to, whatsoever.
YouTube
Another high-stake Social Media platform is YouTube. It ensures over 1 billion different visitors each month on YouTube. Therefore it is safe to say that a real estate dealer must consider YouTube as an excellent marketing platform. The high-end benefit of YouTube promotion is that people prefer to watch videos over reading endless contexts. This is because you can always enjoy the whole video graphics and get all the information that you need wherein in the case of reading context you cannot skip a part and it might get boring. OyeMarketors help the advertisers in establishing a YouTube channel because it gives a sense of trust in the viewers and increases the reputation of the business hence, increasing the real estate profits. An exciting way to attract more audiences is by uploading customers' reviews. It is like uploading the videos of your customers' good recommendations for your future customers; something which is OyeMarketor finds quite strategic.
Instagram
Instagram is a hot topic when it comes to Social Media Marketing. It has taken a very huge toll on people relying on social media marketing for 90% of their business. One of the easiest and effective ways to promote your services is by using hashtags (#). It helps in making your information appear in the most searched subjects on Instagram. This strategy is very influential if you know the right keywords for Hashtags and OyeMarketor has expertise with keywords. We understand how imperative it is to get in the eye of Google's web crawlers or the bots. We all know that a lot of data is produced online by billions of users hence, Google's crawler helps you get your website indexed. To get indexed, OyeMarketor helps with well-planned strategies and top-notch social media tactics.
LinkedIn
LinkedIn stands to be one of the largest professional networks in the world. It has over 774+ million registered users. This platform delivers people with abundant opportunities to share their work and updates with people literally all over the world. People can share their business, companies, and ideas and therefore it is a perfect pitch to volume up your real estate dealing. OyeMarketor highly suggests LinkedIn because it gives a sense of professionalism to its users. Our professional social media marketing team will help you schedule your weekly posts thus saving your time and keeping the good work up. You as real estate promoters need to give attention to the summary page so that your intended audience is able to know what the company does, what services it offers, and its background.
This and so much more of it is waiting for you in our social media marketing plans. It is tough to get along with the world trends and set foot in through social media marketing for the real estate business, but with OyeMarketor it will be a piece of cake. Reach out to us and rocket your real estate world with Oyemarketor!