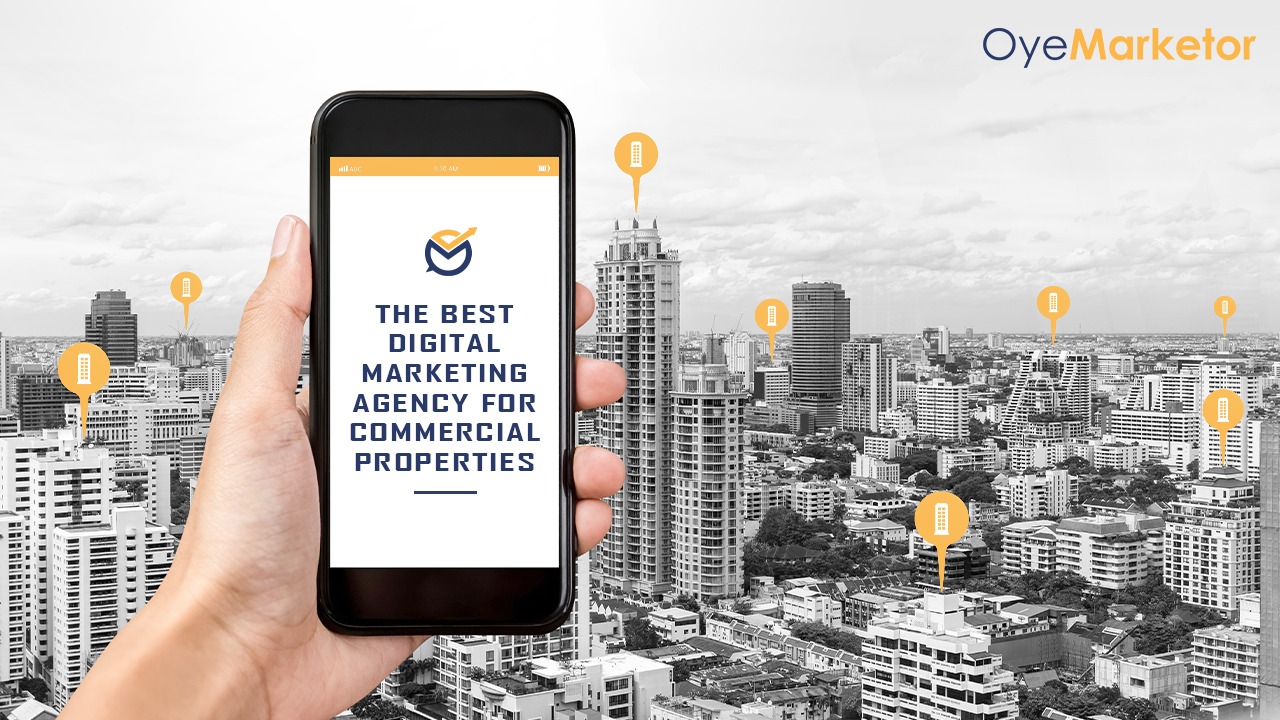 Want to go online with your real estate business? If yes, then you are at the right spot. OyeMarketor is here for you with extravagant digital marketing services, especially for commercial properties. We acknowledge how people bid high stakes for commercial property and what all are the right steps to put a commercial property forward for bidding in the real estate market. OyeMarketor performs all the necessary operations to gather detailed knowledge about the real estate dealings and current scenarios of the market.
Setting up a digital platform for the market to see you and accept you further is a real deal. With us at OyeMarketor, you will just have to sit back and relax and let us do all the hardship. Digital marketing, if done the right way, can give a whole new look to your business in the market. We extend our premium digital marketing services for you to avail and boost up your real estate deals. Here are the effective outcomes of digital marketing services:
Branding and promotions
Just like any other business, it is so imperative to promote your services and spread the word about your real estate dealings. Branding your facility gains you credibility, trust, and more consumers. Here at OyeMarketor, we deliver services like SMO (Social Media Optimization) to build your brand's name since social media is one of the best mediums to promote anything. SEO is another essential digital marketing tool that lets you put the most influencing and catchy content online for your viewers.
Geographical target
Digital marketing lets you choose your targeted audience. You would wonder who all are interested in buying or selling certain property and would like to get the information. Here is where OyeMarketor plays its duty. We reach out to a specific audience because you cannot depend on it vaguely. Our team of experts performs location-specific research and connects you with all the intended customers. Therefore it is essential to employ digital marketing especially for commercial properties where you can get all the ground-level information about the real estate market, the interested dealers, and other details to rely on and proceed accordingly.
Increasing business profit
Who does not want to earn a profit? The answer is no one. Engaging the digital market with your real estate business will certain the chances of higher ROI (rate of investment). All of us use the internet on a daily basis to look up for one or the other thing. Keeping this opportunity in mind, every real estate dealer must build their online presence. You can let people know about services at a wider scale, with just a few clicks, and at your zone of comfort. OyeMarketor believes in winning profits and we ensure you our services with reasonable and cost-effective plans under your budget.
Maintain customer loyalty
Every real estate dealer should know how to convert a casual customer into a loyal customer. OyeMarketor proudly claims its digital marketing to be niche-specific that is, real estate! Rather than handling all businesses in bits, we position our services focusing only on the real estate world. We are loyal to our niche and likewise to our customers.
Through digital marketing, you stand out and ground your chances to stay in touch with your customers. Since your online presence is 24/7, the dealers feel safe and content to contact you. With OyeMarketor digital marketing services for real estate, you get the opportunity to bond with your customers and keep them happy; remember the customer is always the king.